Rich Mailer 3.1

Maintain subscribal mailing lists and broadcast personalized e-mail messages with easy and fast Rich mailer. This mass mailer is handy for various Internet professionals and on-line store owners to notify their customers of significant events or promote new products. Almost no configuration is necessary. It can either work directly with the mailing boxes or via outgoing server. Rich mailer allows you to create or modify mailing lists, and to generate e-mail messages from predefined templates while sending, and to import quickly the list of subscribers into its internal database. Also you can manage mailing filters, search for duplicate emails and enable or disable an individual emails. It provides everything you need for managing, writing and sending email messages over the Internet. Most functions can be invoked quickly by simple click or hotkey pressing. Try our Rich Mailer for free.
This software is a shareware. You will be able to download and test Rich Mailer during a certain period of time, then, if it does what you need, you will have to acquire the full version. The trial version available for download on www.softandco.com has a size of 1349 KBytes. For additional information and support request, please contact directly Rich Mailer publisher.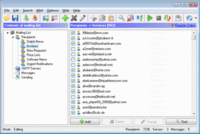 Rich Mailer 3.1 was released by SoftFolder Inc on Wednesday 28 December 2011. Its known requirements are : Win9x/ME/NT/2000/XP/2003/Vista.
Rich Mailer will run on Windows 95, Windows 98, Windows Me, Windows 2000, Windows NT and Windows XP.
Downloads (377)
3.1
Wednesday 28 December 2011