Ulead COOL 3D 3.5
Ulead(R) COOL 3D(TM) 3.5 allows designers to create high-impact, animated 3D titles and graphics for output as still images, GIF animation, video or 3D Macromedia(R) Flash(TM) movies. Combining a friendly interface with professional production capabilities, Ulead COOL 3D is unique in its category. The bonus EnVector module renders vector-based 3D text or objects for use in Flash projects. No other 3D software in its class can beat Ulead COOL 3D for its artistic options and array of special effects. Enjoy the benefits of 3D graphics without the complexities found in other 3D software packages. Discover the ¡§Coolest Way to Hot 3D Graphics.¡¨
This software is a commercial software. You will be able to download and test Ulead COOL 3D during a certain period of time, then, if it does what you need, you will have to acquire the full version. The trial version available for download on www.softandco.com has a size of 15499 KBytes. For additional information and support request, please contact directly Ulead COOL 3D publisher.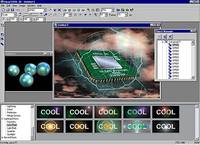 Ulead COOL 3D 3.5 was released by Ulead Systems GmbH on Sunday 21 September 2003. Its known requirements are : Intel Pentium processor, 128MB RAM, 300MB HDD, DirectX 6, Hi-Color Adapter.
Ulead COOL 3D will run on Windows 98, Windows Me, Windows 2000 and Windows XP.
Downloads (6133)
3.5
Sunday 21 September 2003