Bazooka Adware and Spyware Scanner 1.13.02

Bazooka Adware and Spyware Scanner detects a multitude of spyware, adware, foistware, trojan, keylogger and trackware components; sources of irritation that antivirus software does not deal with. The scanning process will only take a fraction of a second and tell you how to uninstall the threat using simple step-by-step instructions or put you in contact with the vendor for the most up-to-date and safe uninstall instructions. Spyware and adware is often bundled with software such as Kazaa, Morpheus, Grokster, Imesh, Xolox, Gnutella and a myriad of other programs, and in some cases installed without your knowledge. Some send information about your surfing habits to ad companies, which target you with popup ads that fit your preferences. Bazooka Adware and Spyware Scanner search for more than 460 threats, such as CoolWebSearch, Gator, GAIN, Bargain Buddy, CommonName, FlashTrack, IPInsight, n-CASE, NetRatings, SaveNow, Wurldmedia, etc. The complete list is available in the online encyclopedia. To stay up-to-date with the new spyware and adware the latest threat definition is always available from the Bazooka web site. Bazooka is freeware and Windows 95/98/ME/NT/2000/XP compatible.
This software is a commercial software. You will be able to download and test Bazooka Adware and Spyware Scanner during a certain period of time, then, if it does what you need, you will have to acquire the full version. The trial version available for download on www.softandco.com has a size of 750 KBytes. For additional information and support request, please contact directly Bazooka Adware and Spyware Scanner publisher.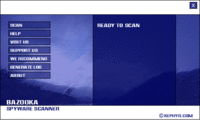 Bazooka Adware and Spyware Scanner 1.13.02 was released by Kephyr on Friday 20 August 2004.
Bazooka Adware and Spyware Scanner will run on Windows 95, Windows 98, Windows Me, Windows 2000, Windows NT and Windows XP.
Downloads (3757)
1.13.02
Friday 20 August 2004