Action Solitaire 1.50

Play solitaire as an arcade game with Action Solitaire. Unlike regular solitaire, Action Solitaire is played for points against the clock in timed rounds. Action Solitaire has 75 different games. Play fast action games such as Triple Peaks, Triple Towers, BlackJack Speed, and Picking Pairs. Play solitaire classics like FreeCell, Klondike, Spider, Pyramid, Golf, Aces Up, Gaps, Montana, and Yukon, all like you have never seen them before.
Your objective is to get the highest score possible and advance to the next round. Each round has a goal score that you must achieve. If you make the goal score, you will advance to the next round. If you do not make the score, you lose. See how many rounds you can play and how high a score you can get!
It's solitaire for people who like action. Play Action Solitaire once, and you'll be addicted forever.
This software is a shareware. You will be able to download and test Action Solitaire during a certain period of time, then, if it does what you need, you will have to acquire the full version. The trial version available for download on www.softandco.com has a size of 6417 KBytes. For additional information and support request, please contact directly Action Solitaire publisher.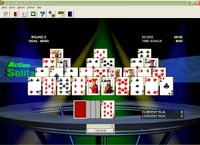 Action Solitaire 1.50 was released by Goodsol Development Inc. on Thursday 12 July 2012.
Action Solitaire will run on Windows 98, Windows 2000 and Windows XP.
Downloads (1423)
1.50
Thursday 12 July 2012