Internet :
Connectivity :
Atelier Web Remote Commander 7.0

Lets you manage servers and workstations from your local computer. AWRC does not require that you install any software on the remote machine. This turns the software particularly useful for accessing remote machines without any previous preparation. AWRC provides lots of powerful tools for remote management and audit. With such tools you will be able to perform operations on the remote system that privileged remote interactive users himself could only dream about. With AWRC you have the knowledge and capabilities to do virtually anything on the remote computer.
This software is a shareware. You will be able to download and test Atelier Web Remote Commander during a certain period of time, then, if it does what you need, you will have to acquire the full version. The trial version available for download on www.softandco.com has a size of 2500 KBytes. For additional information and support request, please contact directly Atelier Web Remote Commander publisher.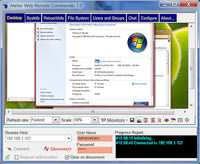 Atelier Web Remote Commander 7.0 was released by AtelierWeb Software on Sunday 03 January 2010. Its known requirements are : Pentium II/III 600, Microsoft networks, Administrator privileges.
Atelier Web Remote Commander will run on Windows 2000 and Windows XP.
Downloads (1086)
7.0
Sunday 03 January 2010