WinSCP 4.0.3

Freeware SFTP (SSH File Transfer Protocol), FTP (File Transfer Protocol) and SCP (Secure CoPy) client for Windows using SSH (Secure SHell). Its main function is safe copying of files between a local and a remote computer. Beyond this basic function, WinSCP manages some other actions with files.
This software is a commercial software. You will be able to download and test WinSCP during a certain period of time, then, if it does what you need, you will have to acquire the full version. The trial version available for download on www.softandco.com has a size of 2230 KBytes. For additional information and support request, please contact directly WinSCP publisher.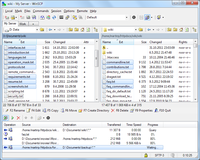 WinSCP 4.0.3 was released by Martin Prikryl on Sunday 22 July 2007. Its known requirements are : SSH server with SFTP/SCP support.
Downloads (6806)